I looked at the calendar this morning and it's only 11 sleeps until my biggest ever challenge. I have challenged myself in many ways in the past but this is definitely the biggest by far. On Saturday the 6th September I will be swimming from one end of Coniston to the other, 5.25 miles.
It hasn't all been fun and easy going though. Don't go thinking that I love swimming and 5.25 miles is going to be a breeze. It's definitely not. I discovered that swimming in choppy water is something that scares me. Just last Saturday I was at the great Scottish swim at Loch Lomond. It was a lovely sunny day and then an hour before I was due to swim the weather changed. It's going to be really choppy they said. They didn't lie! It felt like the longest and toughest mile I have ever swum. It was a mental challenge and I got through it. I'm hoping that it's going to be lovely and sunny and calm on the 6th September, but it is what it is, and I will just have to take on the challenge and get through it.
I have 14 pages of instructions and information about my swim. I won't bore you with all the details but this is what you might like to know. I am in wave one and we have green hats. On the morning of the swim, I get taken by bus to the start point where I shall start swimming at 0835. Here is a map of the swim.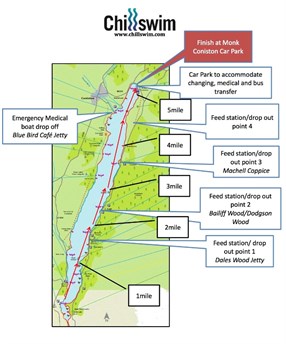 On the lake there will be yellow buoys which mark out each mile and red buoys to show me where the feed station boats are. All I have to do is swim from one feed boat to the next, get some energy drink, gel or jelly babies (different boats have different things) and then onto the next. So it's 1 1/2 miles to the first and then one mile at a time until I get out at the end. There is a cut off time of 2pm. At this time any swimmers still in the water will be taken to the finish by boat. This adds a little bit of pressure as I want to complete the swim.
When it gets tough out there on the lake I will be remembering why I'm doing this and the fantastic charity that I am raising money for. I will be swimming not just for me, but for all the people that would love to be able to get in the water and swim, but are unable to through illness. My just giving link is below. I would like to take this opportunity to thank the Lets do it for M.E planning team and the Walk for M.E team for their continuous support and encouragement during this challenge. Three very special people have really stuck by me through thick and thin this year and I am very grateful to have them as part of my team. Jeremy Loveland, Sue Lax and Kathryn Lloyd, I can't thank you enough.
https://www.justgiving.com/Sarah-Loveland/