Get in the picture!
Posted on
How many photographs of your little ones also have you in them?
My mum and dad have gone through all their photos and put them into albums. There is an album containing pictures of me when I was little and one containing pictures of my sister. As we were growing up we loved looking through the old pictures. Laughing at the outfits that family members were wearing and the things they put us in! My nephew Charlie, aged 4 also loves looking through the pictures.
When I do a photo shoot I always ask the parents if they want to be in the pictures. Sometimes they are keen, sometimes they are a bit unsure and sometimes the dad looks like he's about to run out the back door! It doesn't really matter. it's what works for you. Think about the future though. It's not really about whether you like how you look now or not. Your children love you and they will love looking back at pictures of you and them. It's about capturing this time for your children. You don't have to have your family picture on a huge canvas on the wall, you can just have small prints. Start your own album. What would you like to remember and what would you like your children to remember? Do you have pictures of when you were a child? What do you wish you had pictures of? Have a think and keep that in mind when you've got a camera or phone handy.
As a photographer I like being behind the camera and would rather stay there than be in front of it. This changed a bit when my nephew was born and I found myself on the wrong side of the camera. I'm glad that there are pictures of us together. I don't live near them and it's nice for me and for them to have these pictures. No doubt in years to come they'll look back and laugh at hair styles and clothes but that's all part of the fun.
If you like taking pictures on your phone or digital camera, make sure that you back them up onto DVD or an external hard drive. There's nothing like a computer going wrong and losing all those precious pictures of your babies. Get a selection printed and make up your own albums for your children when they are older. In this digital age it's far too easy to take pictures and forget about them.
Remember! It's all about capturing now so that you and your family can look back and remember; so that your children can look back and see what their life was like when they were babies and toddlers. Don't stop taking pictures as they grow. Capture those crazy fashions and weird trends! Teenagers might not be too impressed at the time but they will be glad that you did.
Lastly, don't forget to get in the picture!
Here is little picture of me with my niece when she was just a week old, just to prove that I do also get in the picture!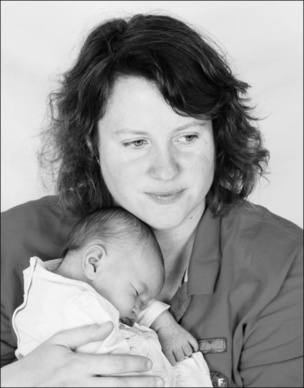 If you're children are old enough, hand the camera to them. Get them to take pictures and make up an album. See things through their eyes! Most importantly, have fun!
Sarahx