The Custard and Bear Photo Shoot
Posted on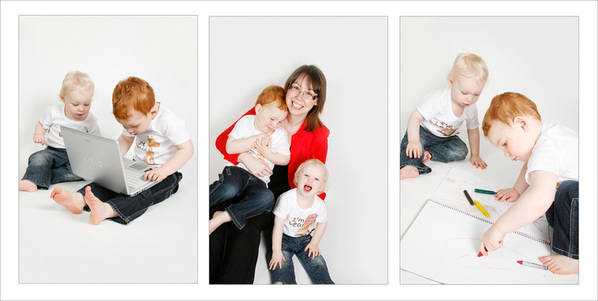 As a marketing consultant I know the importance of having an awesome brand. The old truism of "a picture speaks a thousand words" is never truer than when you're trying to convey messages about your business in one quick glance i.e. through your logo and website.
So, I knew that having top notch photos for my own website was a must.
My business, Custard and Bear, is a marketing agency and the name was inspired by my two sons, their nicknames and their fave teddies.
I'm all about making marketing simple, straightforward and easy to understand; child's play you could say. So it made total sense that Quinn and Albie (the real life Custard and Bear) would feature in my branding along with their illustrated counterparts.
Quinn is 21/2 and Albie is 11/2 and I had this madcap idea of getting them posing for action shots. "Ha Ha" I hear you smirk.
However, I had a secret weapon. Sarah!
I knew Sarah from networking and loved her imagery of babies and toddlers so that (along with our mutual love of cake) helped me decide she would be mad enough to take on the challenge. Thankfully, she was!
Sarah asked me if I might give her a testimonial if I felt she was worth it. A small testimonial just wouldn't do her justice; she was awesome! Hence this full blog post!
Quinn and Albie adored her from the moment she breezed in and made them laugh and giggle. Sarah knew there was no dallying to be had with little ones so it was straight down to business. After a quick cuppa we were rolling smoothly from shot to shot and the boys were so good. So good that I offered Sarah a job as my babysitter!
It was a stress free, hassle free, totally enjoyable hour and I was left in awe of Sarah's ability to be a pro-photographer and kiddies entertainer at the same time.
I hope the results speak for themselves and I hope Sarah will let me guest blog again when I use the images in my branding.
In the meantime I'm going to guest blog for Sarah with Helen McCrea from Female Fitness www.femalefitness.co. We're going to share some secrets about how to feel great for a post-natal photo shoot with Sarah (and it doesn't involve sucking in your tummy or bankrupting yourself buying Spanx pants!)
Michelle Rose