My Great North Swim
Posted on
At the start of this year I told you that I had decided that I wanted to do the Great North Swim and swim the 1 mile event in Lake Windermere. Today, one week after the event I was laughing at people's reactions to me announcing that and the fact that when I booked my place I had not been in a pool for over 10 years. I couldn't even remember how to do front crawl!
I took on that challenge and I planned it out. I had lessons in the pool and my fantastic teacher Denize Shepherdson from Swimtime, believed that I could do it even when I didn't. I quickly progressed from half a length front crawl to 20 lengths. It was time for me to get on with it on my own for a few weeks, before starting some training lessons in the lake.
I then looked at my diet and needed to make massive changes. I had a sugar addiction to sort out and major changes took place. To get this right and improve my energy I worked closely with Laurie Hill from Curvy Chick Body Ecology.
I had never done any swimming in a wetsuit before and that first session was not only very cold but a bit scary. Hopping about in a car park trying to get in and out of a wetsuit was interesting to say the least. The lake was cold and murky and the slimy lake bed, well we won't talk about that! I think that first day, I shivered the whole 45 minute drive home and I was really worried about whether I would be able to reach my goal. The cold water made it harder to breathe and that caused me to panic.
I found myself a fantastic open water coach and booked some sessions at a really nice lake with showers! You would be amazed at the difference getting into a shower after a cold swim makes. I am not as tough as I thought! My coach Pauline Squire pushed me on and I made good progress.
A week before the big day I was still worrying whether I could do it. My coach believed I could do it but I didn't. I battled with the negative voice in my head which I had to work to overcome. A great book called 'The Chimp Paradox' by Dr Steve Peters was the answer to my problems. My next swim was my best so far and I felt ready.
The Great North Swim event had a fantastic atmosphere and the organisation of it all couldn't be faulted. The wind picked up and the water was choppy. This made the first half hard going for me. Every time I lifted my head to breathe I got a face full of water. I swallowed a lot of water and I was worried in the first 100m whether I could do it. I had to shh that negative voice and push on. I was so glad to reach the half way buoy as that meant I was on the way back. I got calmer and stronger in that second half and managed to pick up the pace at the end. I did it. I had reached my goal and finished in 45 minutes and 7 seconds. A time that I would never have thought was possible for me, 2 weeks before.
My swimming journey does not stop here. I have fallen head over heels in love with swimming. I came home and entered 3 more events, with the last one being my biggest challenge yet, a 3km sea swim in Dorset. That event is feeling like a horribly massive challenge at the moment, but I will get there!
To all those that sponsored me, coached me, encouraged me and kept me going when I didn't believe I could do it; a massive thank you to you all. You are all fantastic and I couldn't have done it without you.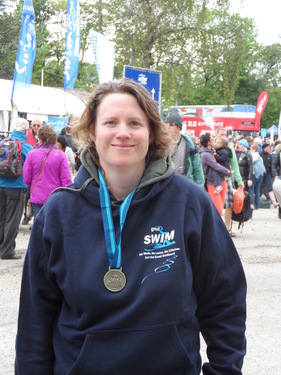 Here are some links for my swimming coaches, health coach and the book I mentioned!
http://paulinesquire.blogspot.co.uk/search?updated-min=2013-01-01T00:00:00-08:00&updated-max=2014-01-01T00:00:00-08:00&max-results=17
http://www.amazon.co.uk/The-Chimp-Paradox-Management-ebook/dp/B006K26BEQ/ref=dp_kinw_strp_1
http://www.curvychickbodyecology.com/