Birth of a gift box
Posted on
I've had a few projects on the go which have kept me very busy so I thought I'd tell you about what's been going on!
I'm passionate about good pictures and about capturing moments to keep for years to come. I realised how much I enjoy teaching others how to get the best from their cameras and whilst I have been doing this for awhile wanted to expand on this. I thought I'd combine my experience as a baby photographer with my need to pass on hints and tips and create a product. It's an idea that I've had for awhile but kept putting to one side.
With encouragement from a few special people I decided that I should stop hesitating and just go for it. As a result the 'How to photograph your newborn baby' gift box has been born. It's a fun and friendly way to learn how to take better pictures aimed at anyone with a point and shoot camera or camera phone. It's not about having the best or most expensive camera; it's about taking great pictures with what you've got.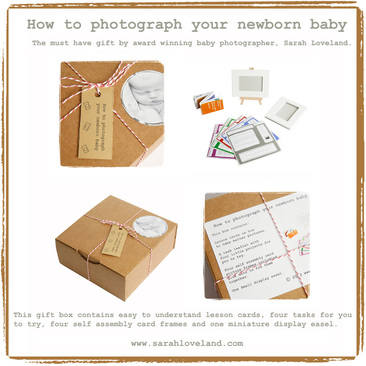 So there I was with this product on my desk when someone suggested that I look at getting it onto 'Not on the high street'. This caused a bit of a flap but I decided to go for it as I'd heard that they turn down a high percentage of applicants. I thought it wouldn't hurt to try. I couldn't believe it when they got back to me within a day to say that they would love to have the product.
Since then it has been a bit of a whirlwind. I've now designed and created another box. 'How to photograph your dog' and there are more in the range to follow.
I believe that photography should be fun but quality doesn't have to suffer. Why shouldn't you be able to take the best pictures that you can and be proud of them?
Have fun with your cameras and camera phones and watch this space for more 'how to photograph ....' boxes being added to the range.
I'm still out there photographing your little ones and enjoying every minute. I've been thinking about October half term offers. I'll keep you posted.
Sarah x